BIOGRAPHIES
There is obviously no truth at all these accounts - for the true stories of the band members, please see here...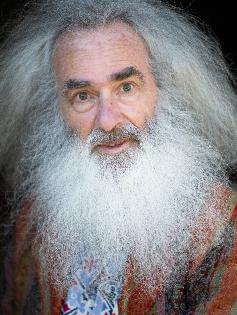 Brian Gulland - Bassoon, Bass Crumhorn, Recorders, Harmonium, & Vocals
Brian first sang in public aged 8 as The Angel in Bach's Christmas Oratorio. Whilst a choirboy at Canterbury Cathedral he met and engaged with the Bassoon.
Following the National Youth Orchestra, the Royal College of Music beckoned, but Brian left early, with vague ideas about playing Hammond organ in a rock band.
Teaming up with Richard Harvey, he was· led into Mediaeval & Renaissance music and Crumhorns, playing in Music Reservata and London Pro Music.
Gryphon emerged seamlesslyish in 1972 and continued till mid '77, when, headhunted by Gabriel Yacoub, Brian spent 2 years in the French Medieval Folk Rock band Malicorne, whilst moonlighting·playing sax in a Parisian punk group.·
From the 80's, Brian has spent much·time in studios, and on the road with the acoustic folkers The New Scorpion Band, the guitarist John Williams, and on sousaphone with the Swervy World Theatre.
He has also been writing, arranging, producing, expanding the instrument cupboard, and playing on numerous recording sessions, from the Nolan Sisters to Hans Zimmer,·via Jon Anderson of Yes, Emma Thompson and Ian Dury, as well as working in the film music world including a spell as Musical Assistant to David Byrne of Talking Heads on 'The Last Emperor' for Belusconi, being a chanting monk for Sir Paul McCartney, and supplying bassoon cannon noises for Muppets Treasure Island.
The blessings·of a musical existence have permitted access to magnificent venues like the Houston Astrodome, The Concertgebouw of Amsterdam, Madison Square Garden, the Albert Hall, St. Paul's Cathedral, Queen's Park Rangers Football Ground, and Village Halls and Folk Clubs without number.
Working in top recording environments like Abbey Road, Air and·Grande Armee has been a privilege.
In addition to his writings for Gryphon, Brian continues to compose in different musical genres, including choral music and a set of harpsichord pieces. He is getting closer to finally coming out with a solo record.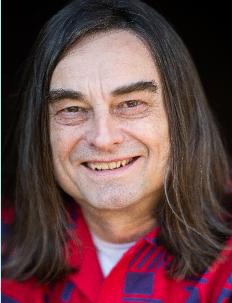 Graeme Taylor - Guitars, Vocals
Graeme's musical career began age 17 in 1971, as founder member of ground-breaking band Gryphon. He also played with an assortment of rock and R&B bands from the mid 70s through to the 90s, notably singer songwriter John B. Spencer.
In 1977, Graeme joined forces with Ashley Hutchings, Shirley Collins, John Tams, Ric Sanders and Michael Gregory, resulting in the formation of a new Albion Band, and with the addition of Dave Mattacks and Simon Nicol from Fairport Convention, the making of the classic album Rise up Like the Sun. 

With John, Ashley and Greg, together with Bill Bryden's team at the National Theatre, he was instrumental in the making of The Mysteries and Lark Rise to Candleford, for which a distinctive English brass section was added, and for the show's revival in 2000, Graeme assumed the role of Music Director and wrote original music and arrangements
He has continued working with John and Greg, forming the critically acclaimed Home Service, which took these concepts much further and has recently enjoyed a successful reincarnation with the great John Kirkpatrick.
He was Music Director for War Horse at the New London Theatre for 3 years, and nowadays spends most of his time engineering and producing music for other singers and bands in his inspiring purpose-built garden studio in south west London.
Additionally, he has written music for library, has done session work and made live and TV appearances with such diverse artistes as Long John Baldry, Tim Rose, Madeleine Bell, Julie Covington, Denise Black, Kiki Dee, Rolf Harris and Rebecca Storm.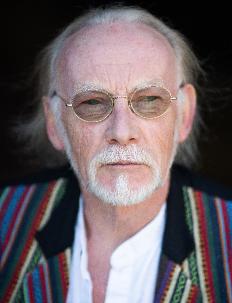 Dave Oberlé - Drums, Percussion & Vocals
Dave was born in Farnborough, Kent. His Father was Charter Director for B.O.A.C and consequently he spent much of his early life traveling, with the first 6 years spent living in Singapore.
His Mother loved to play Piano and he was brought up with an appreciation of classical and popular music. However, the drummer was lurking inside and he was more interested in hitting things and would raid the kitchen drawer for two meat skewers which he used to play on an old wooden box. Then at the age of 10 his Father bought him a snare drum and it was all downhill from there. Throughout his teens he developed a taste for hard rock and at the age of 16 began playing in a Surrey based rock band along with original Gryphon bass player Phil Nestor.
Dave was eventually approached by Richard and Brian in 1971 and asked to join what was later to become Gryphon. His challenge was to adapt his style and kit and to create a new method of playing which would work with the acoustic sound of the band.
During his seven years in Gryphon he also played on Steve Howe's solo album 'Beginnings' and did a vocal session for punk icons Wire on their 'Pink Flag' album. When the members of Gryphon eventually went their own ways, he went to work in the music press, contributing significantly to Melody Maker and Sounds.· He was later to be part of the team that launched the incredibly successful worldwide heavy rock magazine Kerrang! He then spent the next 10 years running independent heavy rock record label Communiqué, releasing albums by Motorhead and Girlschool.
More recently he has appeared as a guest backing vocalist for Martin Orford (IQ and Jadus) on his album 'The Old Road' and has done vocal and percussion sessions for prog rock outfit Gandalf's Fist, whose album 'Forest of Fey' was voted No 3 in Classic Rock Magazine's top 100 albums of 2015. He has also appeared on their latest album 'The Clockwork Fable' which received much critical media acclaim.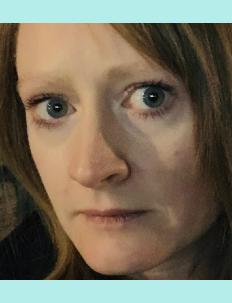 Clare Taylor- Violin, Vocals & Keyboards
Clare began learning violin when she was three years old, with Vivienne Price (founder of the National Children's Orchestra), studying at Junior Guildhall and later with Bill Leary at the University of York (where she read Music) and with John Crawford at Trinity College of Music.
Having performed with several orchestras including London Mozart Players and Royal Philharmonic Orchestra and many chamber music groups, Clare has spent much of her professional life in the West End, playing in musicals such as Charlie And The Chocolate Factory and Motown as well as Girl From The North Country, Les Mis, Hamilton, Dear Evan Hansen, Book of Mormon and The Prince of Egypt. Clare loves nothing more than a new challenge and has enjoyed learning a range of instruments for theatre roles, including guitar, jouhikko, mandolin, lute and keyboards. Clare has undertaken pop sessions for numerous artists, played with The Heritage Orchestra in their original Ibiza Classics arena tour and several tours of Jeff Wayne's War Of The Worlds. She has performed at many of the biggest music venues, theatres and festivals in the UK including The Royal Albert Hall, O2 Arena London, Wembley Stadium, Manchester Arena, Birmingham's Symphony Hall, Royal Opera House, The National Theatre, Shakespeare's Globe, Ronnie Scott's and Glastonbury and Latitude Festivals. In 2019 Clare joined Gryphon - the British prog band that was first formed in the 1970s, with which she plays violin, keyboards and sings.
Clare has recently been building her studio experience as assistant engineer at Morden Shoals Studio and is excited about the prospect of developing this side of her musical life. She composes music for Gryphon, for TV and film as well as to use in her education work. Clare enjoys playing football and creating extravagant food in her spare time.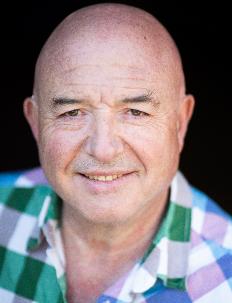 Andy Findon - Flute, Soprano Crumhorn, Soprano Sax & Clarinet
Andy Findon is Europe's most recorded flute player who can be heard on countless movie and TV soundtracks, alongside albums for a long list of international artists.·
Formative influences were gained working for well known British Dance Band leaders Joe Loss, Nat Temple, Eric Delaney and Sidney Lipton whilst and shortly after studying at the Royal College of Music, following membership (as principal flute) of The National Youth Orchestra. He was also a founder member of the Myrha Saxophone Quartet with John Harle in the late seventies.··
Andy is the longest serving member of The Michael Nyman Band, playing baritone sax and flutes on Michael's soundtracks and concert tours since the early 1980's and is also a member of the iconic, award winning folk-rock band The Home Service.
Although training originally as a classical flautist, his career diversified, covering almost every musical genre, duetting with Pat Metheny and playing with artists such as Stevie Wonder, Joni Mitchell, Tony Bennett, Cilla Black, The Beach Boys and Katherine Jenkins among many others.·
In 1998 Andy performed on tin whistle live in the interval act at the Eurovision Song Contest in Birmingham and was Mike Oldfield's recorder player at the 2012 Olympics Opening Ceremony.·
Notable among the hundreds of film scores he's played on are movies in the Bond, Lord Of The Rings, Star Wars and Harry Potter series, as well as·the soundtracks of musicals, including Phantom Of The Opera, Sweeney Todd, Cats, Evita and Mama Mia.·
Andy is also known as London's foremost "ethnic" instrumentalist. He has contributed extensively to the "Spitfire" sample library with work on both orchestral and ethnic instruments, including the release of the "Andy's Kitbag" series. As a composer, he has produced and performed hundreds of music "library" tracks which are played across the media regularly.·His own releases include groundbreaking and innovative premieres, including his own arrangements of work by composers such as Michael Nyman and compositions by iconic jazz pianist and composer Geoff Eales.·
Andy is a "Pearl Flutes International Artist"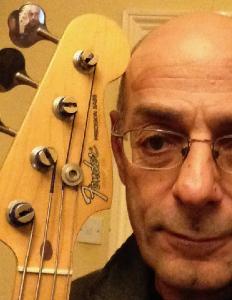 Rob Levy - Bass Guitar & Double Bass
Rob was born in London, and discovered a love of music in his early teens, when given a guitar as a birthday present.
He switched to bass some years later, in order to form a jazz quartet with some school-mates, and never looked back.
Essentially self-taught, Rob played in rock and jazz groups while at university.·
He lived and worked as an English and Music teacher in Austria for three years in the 70's. During this time he attended the Jazz Seminar in Dornbirn, and studied classical guitar and double-bass.
He played with the rock band Good Morning, jazz sextet Sons Of Glee and the Ronning-Levy folk-blues duo, touring Southern Germany, Austria and Switzerland.
On returning to the UK in 1979 he started gigging with jazz and commercial music outfits.
His subsequent career took in stints on cruise ships, summer seasons, the casino in Monte Carlo and numerous tours of Europe.
In the 90's he worked for many years with 60's pop artist Helen Shapiro.
He has worked with Sacha Distel, Jerry Lewis, Petula Clark, Max Bygraves, Russ Conway, Tony Hadley, Jimmy Tarbuck and Des O'Connor.
He has been active as an acoustic and electric bassist in London's West End for over thirty years, having played in over forty musicals, most notably in the shows Five Guys Named Moe, Chicago, Cabaret and Spamalot.
For many years Rob has toured worldwide and recorded with the acclaimed world-music group The Burning Bush.
He recently toured the US with the show The Ratpack Live From Las Vegas.
TV work includes Scene:Terraces, The Sound Of Musicals and Nigella Lawson cookery series.
Apart from Gryphon, Rob plays bass with Musea artists Doctor Gradus, who perform jazzy reworkings of French impressionist music. He also plays Brazilian jazz with Lobu Bobu, and European cafe music with the Tivoli Band.